About Story Merchant Books
Story Merchant Books is a facilitator for direct publishing of books (novels, poetry and nonfiction), while its sister company, Story Merchant, represents them to entertainment (web, television, and motion pictures). Story Merchant's goal is to discover dramatically or widely informative exciting books and help them reach maximum audiences in all media.
Story Merchant sister company Atchity Productions produces books, published or enroute to publication and supervises their scripting.
Things every great story has to have:
Ready to be a bestseller? Story Merchant Dr. Ken Atchity has worked with hundreds of authors and books and many bestsellers. In this in-depth conversation Ken shares his views and insider tips on how to be your own success story.
Our goal is to get your book to Hollywood.
Who are we?
Story Merchant Management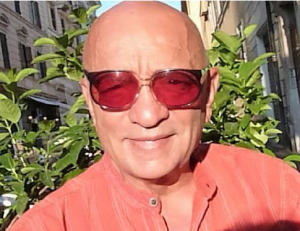 Story Merchant Dr. Ken Atchity
CEO
atchity@storymerchant.com

With fifty years' experience in the publishing world, and thirty-five years in entertainment, Dr. Ken Atchity is a self-labeled "Story Merchant" – author, professor, producer, career coach, teacher, and literary manager, responsible for launching dozens of books and films.
Georgetown (BA) and Yale (Ph.d), then professor of literature at Occidental College and Fulbright Professor of American Studies to the University of Bologna before beginning his second career as literary manager and producer, Ken's life passion is finding great storytellers and shaping them into commercial authors and screenwriters.
Samantha Skelton
Executive Vice President
sam@storymerchant.com
Samantha Skelton is a Los Angeles native. She graduated with a degree in Screenwriting from California State University, Northridge and fuses her love for writing, producing, and acting by creating stories for the screen both personally and in a key creative role at Story Merchant and Atchity Productions. She interned at Andrew Lazar's MadChance at Warner Bros. to learn about development and producing from the ground up. She has written a feature length screenplay, a TV pilot, a web series, and short films. She has studied acting at Warner Loughlin Studios since 2014 and recently starred in an Emmett Loverde feature film.
Her focus is on identifying impactful feature film and television projects for Atchity Production's development slate as well as compelling stories for the Story Merchant imprint and Story Merchant representation. Samantha is currently Associate Producer on the Atchity Production's films The Seeding (2022) and Mr. Irrelevant.
 Chi-Li Wong
Partner and President of Atchity Entertainment International, AEI, and Senior Consulting Editor for The Writers Lifeline, Inc.
Chi-Li is a native New Yorker raised in Spanish Harlem. Having lived in Hawaii, Florida and the Virgin Islands, Wong came to Los Angeles in 1992 after serving as associate administrator of the Fort Lauderdale Film Festival.
Chi-Li's major focus is on identifying feature film and television projects for Atchity Production's development slate.
Chi-Li has gone on to develop and produce motion picture and television projects including: Shadow of Obsession Joe Somebody, Life or Something Like It, The Lost Valentine, the Emmy-nominated The Kennedy Detail documentary, The Meg and Meg 2: The Trench.
Chi-Li co authored with Dr. Atchity Writing Treatments That Sell (Owl Books, Writer's Digest Book Club, Quality Paperbacks).
Lisa Cerasoli
Senior Vice President Story Merchant Books
lisa@storymerchantbooks.com
Lisa is an accomplished editor, writer, actor and executive producer, earning 25+ national/international awards in her career so far. As Executive Vice President of The Writer's Lifeline, Lisa dedicates her immense energies, management and editorial skills, and visionary focus to helping writers move their careers forward. 
Yasemin Isil
Vice President of Development
Yasemin Isil was born in Istanbul, Turkey. Her passion for filmmaking brought her to Los Angeles. She studied acting at the Lee Strasberg Conservatory and film production at UCLA. After graduating she produced and directed her first film, The Sun and The Moon. She acted in several commercials and films, such as I Love Your Moves, and The Wars in Heaven. She co-produced The Hollywood Turkish Film Festival at Paramount Studios to bond the film industries from Hollywood and Turkey. She works as a voiceover producer and serves many studios like Netflix, Sony, Warner Brothers, and Lionsgate. Yasemin is currently Associate Producer on the Atchity Productions film The Seeding (2022)
Tobe A. Roberts IV
Associate Manager
Tobe A. Roberts IV  obtained his Master of Fine Arts degree at  New York University's Tisch School of the Arts (TSOA) Graduate Film Program in 1996.
Tobe entered Graduate School as one of the top six applicants to spearhead the first TV & Film Producers Training Program of the University.  He gained experience in publicity at Paramount Pictures East Coast Publicity, became the East Coast Editor for an online film E-Zine, and eventually became co-producer of a New York-based video production company specializing in Indigenous programming.​
Tobe was an adjunct Professor in the Visual and Performing Arts Department at Fairleigh Dickinson University in Madison, NJ sharing his knowledge with aspiring filmmakers.  He has worked with an NYC/CA-based VFX company in several positions on commercial and film projects. He currently serves as an Art Curator and Consultant in NYC.
Sean Aversa
Marketing/Development Assistant
Born in Baltimore, Maryland, Sean Aversa graduated from Temple University with a Bachelor of Arts in Film & Media Arts with a minor in Digital Media Engagement. During his time at Temple, Sean honed his craft as a screenwriter by interning at a number of companies in the entertainment industry including Bold Films, Hollywood Insider, and Story Merchant's Atchity Productions where Sean saw his role expand from a Development Intern to a Marketing and Development Assistant. Sean hopes his background in screenwriting, creative development, and marketing will help him to assist other writers in translating their story's vision to the page.
Frequently Asked Questions
Q. What is STORY MERCHANT BOOKS?
A. STORY MERCHANT BOOKS is an "incubator of new and remarkable voices" whose primary mission is to make the stories it publishes visible to the television, film, and publishing industries.
Q. Who is Ken Atchity (The Story Merchant)?
A. Dr. Atchity (Yale PhD, Georgetown BA) has worked with writers since he became editor-in-chief of his high school Prep News more than fifty years ago. He's is a writer himself (20 books and counting, fiction and nonfiction), and works as an editor, professor, publishing consultant, speaker at writers' conferences, literary manager, and producer. In pursuit of his lifelong mission to help storytellers get their stories to their maximum audience and adjusting to the volatile writing marketplace, he's created a set of "sister companies" that serve every writer's needs: thewriterslifeline.com, storymerchant.com, Atchity Productions, Atchity-Wong Productions, and storymerchantbooks.com.
Atchity has produced dozens of films to date, with a half dozen more approaching production. View Ken's Filmography Profile here. To keep up with the needs of storytellers in a constantly-changing story marketplace, Ken believes in thinking outside the box.
Q. Why did Atchity create STORY MERCHANT BOOKS?
A. It's not just Hollywood that's changed in the last decade, it's New York publishing as well. Both story coasts have imploded on themselves with the big studios producing only a fraction of the films they used to (thereby giving rise to the thriving "indie" marketplace); and the publishers gobbled up by brand-happy global corporations with eyes only on the bottom line.
Increasingly frustrated by the sales-driven decisions of the traditional publishing community, Ken realized it was more and more difficult to find ways for new voices to reach eager readers. To create a saner, faster way to launch worthy books that he can hand to story-hungry entertainment contacts in Los Angeles (financiers, agents, studios, directors, actors) STORY MERCHANT BOOKS became its own imprint in 2012. Since then, nearly two hundred STORY MERCHANT BOOKS have been published. Several of them are already in various stages of film and series development.
By the way, the traditional publishers are looking for successful new voices too — and are finding them in direct-published books!
Q. What are the relative pros and cons of traditional publishing vs direct publishing via STORY MERCHANT BOOKS?
A. Traditional Publishing (Pros):
– Personal prestige (though readers don't care who publishes a book)
– Access to bookstore distribution
– Author retains dramatic rights, repped by his agent or manager
Traditional Publishing (Cons):
– 3-12 months response time
– All publishing rights to publisher in perpetuity
– Minimum one-two year time lag between sale and publication
– Minimum one year allowed between books
– 0-Low advance, unless a number of publishers are bidding
– Average of 6-8% of the sales price of all copies sold
– Nearly all marketing dependent on author
– Author loses control of cover design
– Author has no control over his or her book's ePage
– No ability to revise or alter once published
– No control of retail pricing
– After a gap of two years, royalties reported/paid every six months
– Little or no interaction between author & publisher on marketing
– Author needs to work through a publicist to market
Direct Publishing from Story Merchant Books (Cons)
– No advance
– Author pays "launch fee"
Direct Publishing from Story Merchant Books (Pros)
– One month maximum response time
– 52.5% of the sales price of e-books sold, and approximately 25% of the sales price of print books sold
– Author reclaims all publishing rights at request
– Access to bookstore distribution
– Author retains dramatic rights, repped by Story Merchant Books and Atchity Productions
– One-four-month time lag between start and publication
– Primary marketing dependent on author (with STORY MERCHANT BOOKS' advice). STORY MERCHANT BOOKS does opportunistic marketing to its lifelong contacts but focuses its promotional efforts on setting up television or film
– Author retains control of cover design
– STORY MERCHANT BOOKS' special relationship with the e-store allows us to add updates to your page
– Ability to revise or alter once published
– Author has control of retail pricing
– After ninety days, royalties reported/paid every six months and upon special request
– STORY MERCHANT BOOKS Book Marketing Services eliminate the need for a publicist
Q. How much of the sales price do I receive if I publish through Story Merchant Books?
A. STORY MERCHANT BOOKS authors receive 70% of the sales price of their books from amazon.com, as long as the book is priced between $2.99 and $9.99. Outside that pricing window, authors receive 35% of the sales price. For launching, tracking, Amazon-marketing, and administering your book, STORY MERCHANT BOOKS receives twenty-five percent (25%) of your revenues from e- and print sales. If you make an e-sale of $10, for example, amazon pays your account 70% or $7.00. Of that, STORY MERCHANT BOOKS retains 25% or $1.75. Your net is $7.00-$1.75 = $5.25 or 52.5% (compared to the 6-15% percent you might receive from the same sale via traditional publishing).
Q. What kind of promotion will Amazon offer my book if STORY MERCHANT BOOKS gives them a twelve-month exclusive?
A. Although this may vary from book to book, your book will receive most, if not all, of the following:
– Kindle New Releases Storefront posting
– Kindle Category Storefront posting (in the category of your book)
– Kindle 100 Books for $3.99 or less posting
– KOLL – Kindle Owners' Lending Library for three months, while the book is also on sale for its regular price
– Each promotion runs solidly for thirty days, then intermittently afterwards
Q. Do I sign with Kindle Direct if I work through STORY MERCHANT BOOKS?
A. No, you only sign a representation agreement with STORY MERCHANT BOOKS, which has an overall agreement with Amazon. You can review KindleDirect's Standard Agreement, which is what STORY MERCHANT BOOKS is bound by.
Q. Why can't I just publish my book on Kindle Direct without the need for STORY MERCHANT BOOKS?
A. You can! You just won't receive:
– STORY MERCHANT BOOKS' advocacy with Amazon;
– the daily hands-on treatment accorded by Amazon to Story Merchant Books;
– the advantage of STORY MERCHANT BOOKS PRESENTING your book to film and television buyers through the experienced track record of Ken Atchity at Atchity Productions; or
– thirty years' of accumulated marketing experience and experience in the global story market STORY MERCHANT BOOKS shares with its authors.
Q. Can I track my sales directly through STORY MERCHANT BOOKS?
A. To protect the privacy of your fellow authors, only STORY MERCHANT BOOKS has direct access to your book's sales reports on both e-stores. At your request, we will send you a direct screen-printout of your sales totals.
Q. How does STORY MERCHANT BOOKS assist me in marketing my book?
A. STORY MERCHANT BOOKS assists in many ways, including the following:
– Its close working relationship with the major e-store ensures that Amazon.com will automatically promote your book, as long as we've given them an exclusive.
– STORY MERCHANT BOOK MARKETING [Click Here To Download Menu Of Services] connects your book with qualified and tested book trailer creators, blog and Facebook page builders, reviewers, a basic marketing array, publicists, and "much, much more."

– You can also join the ever-growing "Book Review Bank" whereby STORY MERCHANT BOOKS authors buy and review each other's books to insure reaching the critical mass of reviews that brings your book to the attention of the Amazon computer.
– STORY MERCHANT BOOKS will enhance the image of your book with its experienced cover artists and interior layout designers, as well as digitizers to speed your book to e-publication.
– STORY MERCHANT BOOK MARKETING will give you feedback on your "marketing plan" that will enable you to promote your own e-books.
– STORY MERCHANT BOOKS will use its years of connections in the literary and entertainment world to promote your book opportunistically, with a goal to increase its visibility, which leads to attention from traditional publishers – and to entertainment companies – worldwide.
Q. Why is it important for me to market my book?
Q. What are my upfront costs for working with STORY MERCHANT BOOKS?
A. STORY MERCHANT BOOKS charges:
1) a "launch fee" (currently $2,500) to shepherd your book to publication;
2) the costs of cover and design, which vary depending on the length and complexity of your book;
3) a fee for an ISBN for your print book;
4) and twenty-five percent (25%) commission on revenues your book receives from e-book and/or print sales.
We report your royalties to you in January and July of each year, until you reach a threshold of 500 books per month when we switch to quarterly reporting. The exact cost of your launch will be quoted to you after our initial consultation and agreement to facilitate your book's publication. Our services are à la carte. This, we discovered, helps serve the author's needs best, and reduces undo pressure.
Q. Is Story Merchant no longer representing books to traditional publishers?
A. On an extremely selective basis, it is.
For most first-time fiction authors who are not household names, direct publishing is generally the best launch strategy available in today's changing story market.
But if your platform is visible enough, whether in nonfiction or fiction, you may be the exception – in which case, Story Merchant will represent you to the traditional publishing market (we've had nearly two dozen New York Times bestsellers, including recently 5 Days in November, Mrs. Kennedy and Me, The Kennedy Detail, and Dracula: The Un-Dead).
Q. How do I get started with STORY MERCHANT BOOKS?
A. Send an email to Atchity@storymerchant.com and tell Dr. Atchity your book's title, provide a one-paragraph pitch, one paragraph about you (your writing background, your career, and your motivation) and the status of the book's rights. He will reply with "how to get started."
Q. Does STORY MERCHANT BOOKS accept any book that's submitted for publication?
A. No. We accept only books that have (a) entertaining or inspiring stories or useful, inspiring, and well-organized information; (b) a high-level of professionalism in the writing; and (c) strong commercial potential for sales.
Q. What are the steps by which a book is accepted by STORY MERCHANT BOOKS?
A. Here are the steps to publication:
– After you've received the "how to get started" email from Dr. Atchity, you send in your manuscript.
Story Merchant reads the book to determine if it's publishable under our STORY MERCHANT BOOKS imprint, and is or is not professionally ready for publication.
– If it is not ready for publication, STORY MERCHANT BOOKS will refer you to an editor through our sister company, The Writers' Lifeline, www.thewriterslifeline.com (responsible for dozens of bestsellers through the last twenty-five years); or advise you to find one on your own.
– When the professionally ready book is accepted, STORY MERCHANT BOOKS designs a cover with your input, for which you have final approval.
– When the cover is approved, if the submission is e-book only, STORY MERCHANT BOOKS submits the book to Amazon for digitization (or expedites digitization through our in-house digitizers).
– When digitization is complete, the e-book is launched.
– If the book is also for print, the interior design commences prior to digitization.
– When the interior design is completed, you approve it and proof it one last time. We offer professional proofing services, upon request and for an additional fee.
– The book is then combined with the front, spine, and back cover and launched as a print book.
Q. How does "The Story Merchant," Dr. Ken Atchity, feel about STORY MERCHANT BOOKS?
A. Since he launched STORY MERCHANT BOOKS, Dr. Atchity has been more excited about the world of publishing than he has been for years! "Finally, I've found an efficient way to give storytellers control over their own fates, instead of seeing them with no recourse but the mercy of traditional New York gatekeepers."
Story Merchant Books is privileged to help storytellers get their stories to their maximum global audiences through assisting them in professional direct publishing and introducing their books to the screen.
Highlights from the authorearnings.com report
Our data shows quite conclusively that mid-list titles earn more for self-published authors than they do the traditionally published… It is also worth noting, again, that self-published authors are earning more money on fewer titles. Our data supports a truth that I keep running into over and over, however anecdotally: More writers today are paying bills with their craft than at any other time in human history.
Our data suggests that even stellar manuscripts are better off self-published. These outlier authors are already doing better via self-publishing, when compared one to one.
If I had to guess what the future holds, I would say that the world of literature has its brightest days still ahead. That we have come so far in such a short period of time is revealing. We take for granted changes in other media – the absence of that tall rack of CDs beside home stereos, the dwindling number of people who watch live TV, that missing thrill of opening a paper envelope full of printed photos. There will be casualties in the publishing industry as the delivery mechanisms for stories change. There already have been casualties. But there are opportunities, as well. And right now, the benefits are moving to the reader and the writer.