WHAT IS STORY MERCHANT BOOKS?
Story Merchant Books is a facilitator for direct publishing of books (novels and nonfiction), and their representative to entertainment (web, television, and motion pictures). Its goal is to discover exciting books and help them reach maximum audiences in all media.
For filmmakers looking for films, Story Merchant Books through its sister company Atchity Productions is happy to provide a copy of the book gratis to potential buyers.
Dr. Ken Atchity
CEO, Story Merchant Books
With more than forty years experience in the publishing world, and twenty-five years in entertainment, Dr. Ken Atchity is a self-defined "Story Merchant" author, professor, producer, career coach, teacher, and literary manager, responsible for launching dozens of books and films. Georgetown (BA) and Yale (Ph.D.), then professor of literature at Occidental College and Fulbright Professor to the University of Bologna before beginning his second career as literary manager and producer, Kens life passion is finding great storytellers and turning them into commercial authors and screenwriters.
Send Ken an email:atchity@storymerchant.com
Lisa Cerasoli
Executive Vice President, Story Merchant Books
Lisa is an accomplished writer, editor, and executive producer, earning 25+ national/international awards in her career so far. As Executive Vice President of Story Merchant Books, Lisa dedicates her immense energies, management and editorial skills, and visionary focus to helping writers move their careers forward.
Fun facts:favorite bookThe Catcher in the Rye;favorite movieMoneyball.

Send Lisa an email: lisacerasoli@gmail.com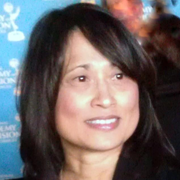 Chi-Li Wong
Partner and President of Atchity Entertainment International (AEI), Senior Consulting Editor for the Writer's Lifeline, Inc.
Chi-Li Wong is a native New Yorker raised in Spanish Harlem. Wong came to Los Angeles in 1992 after serving as associate administrator of the Fort Lauderdale Film Festival.
She began her career at AEI as a story editor and analyst. It wasn't long before she went on to specialize in treatments and acquisitions, becoming VP of Development and Production. Chi-Li Wong's major focus is on identifying feature film and television projects. Her first producing assignment for AEI (alongside Ken Atchity) was on NBC's Shadow Of Obsession (Veronica Hammel). She has gone on to develop and produce motion picture and television projects including: The Meg (Jason Statham, Warner Brosover $500 million worldwide!), Angels in the Snow (Kristy Swanson, UP! Channel), The Lost Valentine (Betty White, Hallmark Hall of Fame), the Emmy-nominated The Kennedy Detail documentary (Discovery), The Madams Family (Ellen Burstyn, CBS), Joe Somebody (Tim Allen; Fox), and Life or Something Like It (Angelina Jolie: Fox). She is co-author with Ken of Writing Treatments That Sell (Owl Books, Writers Digest Book Club, Quality Paperbacks). Chi-Li is Co-Producer on the Atchity Productions film The Seeding (2021).
Send Chi-Li an email: clw@storymerchant.com
Yasemin Isil
Development Executive
Yasemin Isil was born in Istanbul, Turkey. Her passion for filmmaking brought her to Los Angeles. She studied acting at the Lee Strasberg Conservatory and film production at UCLA. After graduating she produced and directed her first film, The Sun and The Moon. She acted in several commercials and films, such as I Love Your Moves and The Wars in Heaven. She co-produced The Hollywood Turkish Film Festival at The Paramount Studios to bond the film industries from Hollywood and Turkey. She works as a voice over producer and serves many studios like Netflix, Sony, Warner Brothers, and Lionsgate.Yasemin is currently Associate Producer on the Atchity Productions film The Seeding (2021).

Send Yasemin an email:
Samantha Skelton
Development Executive
Samantha Skelton is a Los Angeles native. She graduated with a degree in Screenwriting from California State University, Northridge and fuses her love for writing, producing, and acting by creating stories for the screen both personally and in a key creative role at Atchity Productions. She interned at Andrew Lazar's MadChance at Warner Brothers to learn about development and producing from the ground up. She has written a feature length screenplay, a TV pilot, a web series, and short films. She has studied acting at Warner Loughlin Studios since 2014 and recently starred in an Emmett Loverde feature film.
Her focus is on identifying impactful feature film and television projects for Atchity Production's development slate as well as compelling stories for representation for the Story Merchant imprint. Samantha is currently Associate Producer on the Atchity Productions film The Seeding (2021)

Send Yasemin an email: